We know it, Terry Pomerantz likes a good cigar. Pleasure of the dreamer. Pleasure of the philosopher. Pleasure of the wise.
Elevating the spirit
"Smoke, when from incense or plants (including tobacco) smoked in a ritual invocation, symbolizes the spirit that rises. The smoke then stands for the rising of the spirit to commune with the divine principle. Here, the material world is momentarily dissolved. The human opens to another dimension." *
Savouring instead of inhaling
Let's emphasizes that the smoker who wants to savour a cigar just lightly breathes the smoke in. Just like when tasting a good wine or a good whiskey, you should keep each puff in your mouth, relish in its round body and its warmth, and let your taste buds and your nose explore all the subtilities of its flavors and fragrances.
Terry Pomerantz's Top 5 Cigars
The Cohiba Talisman. Originally, these "puros" were only smoked by Fidel Castro, Che Guevara and their entourage. With its aromas of cedar, pepper and spices, the Cohiba Talisman is particularly well suited for post BBQ, prolonging the scent of grilled meats in its swirls of smoke.
The Partagas Serie D is very rich in woody fragrances and explosions of spices.
The Trinidad. With its very round and complex smoke as well as its power that smoothly builds up, it's an excellent choice to smoke quietly following a good meal.
The Hoyo de Monterrey Churchills is light with fern and woody notes. It is perfectly suited for beginners.
The Zino Chubby is a well-built Dominican cigar. After the Sunday brunch, we feel like letting ourselves get carried away with its hints of almond and roasted hazelnut.
Luxury, Peace and Pleasure
Terry likes to smoke his cigars with friends. "Luxury, peace and pleasure", wrote Baudelaire in L'invitation au voyage. Together, they let their daydreams inspire them.
After all, wasn't it from a dream that the Pomerantz Foundation was born? The dream of helping children in need, helping children that are different.
*Source: Le dictionnaire des rêves, Tristan-Frédéric Moir. http://tristan-moir.fr/fumee/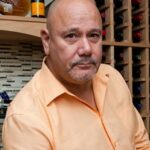 Entrepreneur and prominent figure in Montreal's real estate and manufacturing sectors, Terry Pomerantz approaches every aspect of life with heart and character. At the helm of Domfoam and T.R.A.M.S Property Management, he carries on his late father's legacy while dedicating his philanthropic commitment to the Pomerantz Foundation, which has been actively supporting children's causes since 1991.