Grilling a la plancha has been trending for a few years. Making grilling accessible to all, the plancha has allowed us to diversify our recipes whether on the barbecue, on a wooden plancha pan, or on an electric plancha. Become a true chef thanks to Terry Pomerantz's tips and tricks to ensure great grilling a la plancha.
What is grilling a la plancha?
Of Spanish origin, plancha cooking is a method of cooking food by contact. Whether it's a simple wooden plancha or a gas or electric plancha with a steel, aluminum, stainless, or titanium coating, the food cooks at high temperatures.
Because cooking on a plancha produces diffused heat that spreads evenly over its entire surface, it allows for complete combustion of fats. This is unfortunately not the case with BBQ cooking, which is done directly on the heat source, often concentrating the heat in the center at the expense of the edges.
What can be cooked on a plancha?
You can grill everything on a plancha. This type of slow cooking is excellent for fish, vegetables, and seafood. It is ideal for tapas, a classic in Spanish gastronomy. Beef tournedos and medallions, pork chops, or chicken, turkey, and duck breast fillets can also be cooked on a plancha grill.
Remember that grilling is particularly suitable for meats that need to be seared, such as steaks, lamb chops, and sausages. Cooking directly on high heat gives meats that famous seared crust flavor that we love so much.
Which plancha to choose?
An electric or gas plancha grill is easier to clean than BBQ grills. Simply scrape the pan first with a scraper to remove cooking residues, and then clean the surface with a damp cloth. Electric or gas plancha cooking also produces less smoke than BBQ cooking.
If the plancha grill is gas-operated, it must be connected to the natural gas distribution system or to a propane tank. It's also better to keep a second full tank in reserve to avoid being out of gas, which always occurs at an inconvenient time! An electric plancha does not require as much attention as a gas one, but the temperatures obtained are less intense, making cooking less efficient.
Fish a la plancha, the Terry way
Terry Pomerantz uses the plancha to cook his favorite fish, salmon, and swordfish. Terry first buys his fresh fish at the Marché 440 Poissonnerie in West Laval. He prefers to grill his fresh catch on a 14″x7″x1″ cedar plancha pan to give it a unique woody flavor.
To prevent the wood plancha from burning, Terry soaks it in cool water for 2 hours. While his BBQ warms up, he brushes the sides of his plancha with olive oil. He also coats his salmon and swordfish steaks with a little olive oil and lemon. He sprinkles them with salt, pepper, and fresh dill. "I cook the fish a la plancha on the BBQ, for about the same time as if I were grilling it directly on the grill. Only buy untreated wood planks! I prefer cedar, but there are also maple, cherry, apple, or oak planks."
5 marinades for plancha cooking
When Terry digs through the marinade recipes he's accumulated over the years, he picks out 5 marinades for cooking a la plancha.
Sweet & Sour Marinade

This classic marinade is great for grilling pork and chicken.

Ingredients:

2 tbsp red meat spices
3 tbsp wine vinegar
3 tbsp soy sauce
3 tbsp oil
3 tbsp honey
1 garlic clove, grated
1 tsp ginger
Salt

Put all ingredients into a bowl. Mix with a whisk. Pour the marinade into a freezer bag and marinate your meats a few hours before cooking (ideally about 12 hours).

Honey Lemon Marinade

This marinade goes well with white meats and poultry.

Ingredients:

3 tbsp brown sugar
1 tbsp liquid honey
15 cl lemon juice
½ tsp powdered ginger
1 tbsp soy sauce
1 tbsp poultry spices

Put all ingredients into a bowl. Mix with a whisk. Pour the marinade into a freezer bag and marinate your meats a few hours before cooking (ideally about 12 hours).

Pimenton Marinade

Pimenton is a kind of smoked Spanish paprika that enhances the taste of pork fillets, chops, and ribs.

You can buy Pimenton in specialty grocery stores and at the Avril supermarket.

Ingredients:

2 tsp Pimenton
1 tsp sugar
A little cumin
1 clove
1 garlic clove, chopped
2 tbsp soy sauce
2 tbsp olive oil
1½ tbsp wine vinegar

In a container, mix all the spices (except the cumin and clove). Add the soy sauce, vinegar, and oil. Pour into a freezer bag, adding the cumin, clove, and meats. Marinate for about 12 hours.

Lemongrass Ginger Marinade

This marinade is perfect for fresh shrimps.

Ingredients:

15 g fresh ginger, chopped
6 lemongrass shavings
1 garlic clove, chopped
4 tbsp olive oil
2 tbsp of dry white wine

Put all ingredients into a bowl. Mix together. Pour into a freezer bag. Add shrimp. Marinate in the refrigerator for 8 to 12 hours.

Cajun Marinade

This Cajun marinade adds warm flavors to your grilled beef, pork, and chicken.

Ingredients:

10 cl olive oil
2 tbsp malt vinegar
2 tsp Cajun spices
1 sprig of fresh thyme
1 tbsp tomato paste
2 garlic cloves
1 onion, finely chopped
Salt and pepper

Put everything (except the thyme sprig) into a blender and mix. Pour the marinade into a freezer bag. Add the meat and the thyme sprig. For beef and pork, marinate in the fridge for 4 hours, or 2 hours for chicken.
Conclusion a la plancha
As with every meal he prepares, regardless of the techniques and tools he uses, Terry Pomerantz wraps up his cooking on the plancha grill with a hearty "Bon appétit!"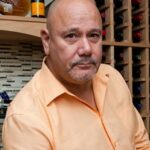 Entrepreneur and prominent figure in Montreal's real estate and manufacturing sectors, Terry Pomerantz approaches every aspect of life with heart and character. At the helm of Domfoam and T.R.A.M.S Property Management, he carries on his late father's legacy while dedicating his philanthropic commitment to the Pomerantz Foundation, which has been actively supporting children's causes since 1991.