For the Terry Pomerantz team in charge of the Pomerantz Foundation, celebrating Mother's Day means celebrating peace. "Let's remember that mothers have not given birth to soldiers, nor street kids, nor refugees" says Terry Pomerantz, leader of the Pomerantz family Foundation.
Terry Pomerantz presents 3 texts carefully selected to celebrate Mother's Day.
The origins of Mother's Day in America
Julia Ward Howe, an abolitionist activist who promoted peace, the abolition of slavery and the right to vote for women, declared in 1870 a Day of the Mother, inviting all mothers in the world to fight for peace. In 1907, Anna Jarvis, another activist, launched a campaign to create a Mother's Day. In 1914, the American Government, in turn, finally officially declared a public holiday on the second Sunday of the month of May, dedicated to Mother's Day.
1st selected text: My Mother
I long for my mother's bread
My mother's coffee
Her touch
Childhood memories grow up in me
Day after day
I must be worth my life
At the hour of my death
Worth the tears of my mother.
An excerpt of a poem by Mahmoud Darwich.
2nd chosen text: A Jewish proverb
God could not be everywhere; so he created the mother
3rd selection: a Radio-Canada report
After years and years of waiting, Gerda Cole, 98 years old, is finally reunited with her daughter Sonya Grist, 80 years old. In an effort to flee from the Second World War and persecution, Gerda Cole leaves Vienna to take refuge in England. At the age of 18, Gerda Cole gives birth to a girl. Having little resources, and upon the recommendations of a comity supporting refugees, Gerda is encouraged to give her child up for adoption. She is heartbroken.
After the war is over, Gerda immigrates to Canada. She attends university and successfully completes 3 degrees, one of which is a specialized bachelors' degree in Jewish Studies at the University of Toronto. She also participated in archeological research in Israel and Cyprus. Gerda never forgot her daughter.
Decades later, her grandson Stephen starts looking for his biological grandmother. His research leads him to one of Ms. Cole's ex son-in-law. When Stephen asks him if he can see her death certificate, he answers: "That's impossible! Your grandmother is still alive!" After sharing this incredible news with his mother, Stephen contacts his grandmother who quickly accepts to meet her daughter and grandson. She couldn't possibly be happier.
Gerda and her daughter Sonya take advantage of every minute. "We love to study and speak different languages", shares Sonya Grist. "We have so many things to share with each other", adds her mother. (Adaptation of an article written by Stella Dupuy and published on ici radio-canada.ca).
A message from the Pomerantz Foundation
"For me personally, and for everyone who supports the Pomerantz Foundation, mothers are the heart of the world. Hidden, dominated and exploited for centuries, women are finally emerging and coming to light. It is up to all of us to preserve this light and allow for it to grow. It is our responsibility to help all women and children who are victims of any kind of aggression or exploitation", concludes Terry Pomerantz.
Articles to read: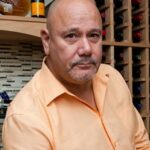 Entrepreneur and prominent figure in Montreal's real estate and manufacturing sectors, Terry Pomerantz approaches every aspect of life with heart and character. At the helm of Domfoam and T.R.A.M.S Property Management, he carries on his late father's legacy while dedicating his philanthropic commitment to the Pomerantz Foundation, which has been actively supporting children's causes since 1991.